Global Missions
Global Missions
The Choy's in Fiji


Premend Choy and his family (wife Sharmila, daughters Charlene and Abigail) came to the United States in 2007 from Fiji to go to seminary and the Lord directed his steps to The Master's Seminary in Southern California. He received his M.Div. in May of 2012 and completed his Th.M. in the fall of 2012. He recalls his time at this seminary as one of his sweetest experiences even though it was packed with rigorous academic training. He is grateful to the Lord for directing his steps to a seminary that is serious about training men as if lives depended on it!

Premend believes that the training has been instrumental in preparing him for godly living, for leadership in ministry, and for effective involvement in serving others.

Now that the training is over, Premend and his family returned to Fiji in early 2013 and have rejoined the faculty of the Fiji Bible College from which he graduated years ago. His focus in on training the next generation of young men for ministry in the South Pacific region. This Bible College has been training pastors for the past 38 years under the leadership of Dr. Narayan Nair.

For more information about the Choy's ministry in Fiji, please go to www.afcfiji.com

U SA Contact:
AFCI USA Service Center
1355 Terrell Mill Rd.
Bldg. 1462, Ste. 100
Marietta, GA 30067
(770) 980-2020
www.afci.us

Fiji Contact:
College of Theology & Evangelism, Fiji
PO Box 315, Buabua Rd.
Lautoka, Fiji Islands
(679) 628-3805
www.afcfiji.us

Email: premendchoy@gmail.com
US Cell Phone# (714) 458-4974
Mike and Diane Hartman in Florida


Mike and Diane served the Lord through Ethnos 360 (formerly New Tribes Missions) in Manaus, Brazil before transferring to Florida to serve in the Sanford office.


Anniversary: July 21, 1979
Birthdays: Mike – June 10; Diane – September 9

Home Address:
19 Spring Glen Dr. DeBary, Fl 32713

Ethnos360:

312 W 1st St. Sanford, Fl 32771

Phone: Mike: 55-92-8235-7582 Diane: 55-92-8174-7788

Skype: mdhartman

Email: mike_hartman@ntm.org
Facebook: Diane Hartman
Brian Opre in Italy

Brian is currently in language school in Perugia, Italy and will then move to Turin when his training is completed to work among church planters and pastoral training.


Birthday: January 24

Contact Info:

Address
Via Ernesto Bonaiuti N. 15
06129 Perugia (PG), Italy

Italian Phone Number
+39 338 365 1194

Magic Jack
(949) 208 1437

bopre@abwe.cc

Sending Agency
ABWE
P.O.Box 8585
Harrisburg, PA 17105
www.abwe.org

If you'd like to support this ministry, there are two ways.

Mail a check to:
ABWE
P.O.Box 8585
Harrisburg, PA 17105
Please reference account 0135771.

Online
www.abwe.org/work/support
Please reference account 0135771.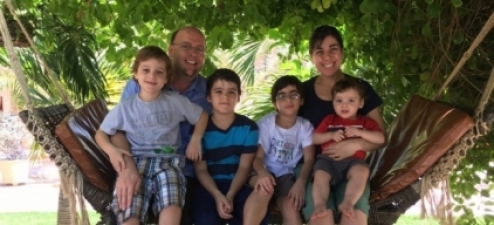 Matthew and Elsiene Carroll in Brazil

Matthew & Elsiene Carroll joined ACTION International in September 2010 to help train and equip Brazilian pastors and church leaders.
Matthew is a graduate of The Master's Seminary in Sun Valley, California. Elsiene is originally from Goiânia, Brazil, so the Carrolls are serving in Elsiene's hometown. Matthew & Elsiene married in December 2005, and have three sons.
In Goiânia, the Carrolls are partnering with a local church-based training ministry to equip pastors in biblical leadership and expository preaching.

What can you do to share in the ministry with us?
You can commit to pray for us! The work, though rewarding, will be hard, and it is only through the power of God that there will be any impact made for His kingdom. Email us to request our regular news and prayer letters.
You can support us financially! We desire to be free to spend all our time for the ministry in Brazil and we need your help to do so. No gift is too small. Your monthly support and contributions toward our outgoing expenses are another wonderful way you can share in the ministry. To support us financially, you may use the "Donate" button above, or call 425-775-4800, or mail your check to one of the following addresses: (Please make your check payable to ACTION and include a note to mention "Matthew & Elsiene Carroll – 51019")
ACTION USA
PO Box 398, Mountlake Terrace WA, 98043-0398

ACTION no Brasil
R. Fonte do Salgueiro 105, Jd. Sertãozinho, São Paulo – SP 04826-250

You can come with us! There is much work to be done in Brazil and we desire to see the Lord raise up more workers for the harvest fields of Brazil. The harvest is ready—we entreat the Lord of the harvest to send workers into His field. Watch the PLD International video at EquipPastors.org to get an idea of the need and opportunity that exists for training pastors worldwide and in Brazil.